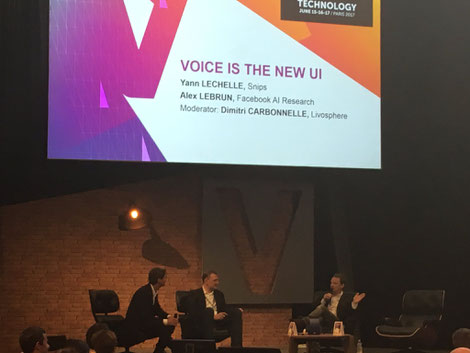 Voice is the New UI : June 15th  10:45 to 11:15 with Facebook, Snips, Livosphere
I was really happy to moderate the following session on the voice is the new UI.
Here are the introduction and questions I asked
- Alex Lebrun Facebook AI and Co-founder of Wit.AI
- Yann Lechelle COO Snips  - lien image : 
- Dimitri Carbonnelle Livosphere
Here is the audio file :
Introduction by Dimitri Carbonnelle - Livosphere
Voice - quickest and most natural way for humans to transmit complex information
When I went to the CES Las Vegas in January Voice was everywhere, to be accurate Alexa, Amazon intelligent Voice control system. was everywhere in alarms, fridge, cars. I haven't seen it in a toothbrush, but it should soon come ?...
The question is Why ?
Voice is the quickest and most natural way for humans to transmit complex information, compared to any other UX like typing or gesture. Voice recognition and voice understanding is a major shift because you don't need anymore a screen, our usual digital interface. You can cut the umbilical cord between a connected device and a smartphone and have a natural interaction with it.
The biggest challenge isn't anymore transforming speech to text which became today a commodity as told me Alex. It is to understand, answer and react which means integrate artificial intelligence after voice recognition, we call it natural language processing. Of course, there are some issues about voice : one of them is privacy
Facebook intelligent speaker -  Voice versus text - Question to Alex Lebrun - Facebook
Hello Alex,
There is a lot happening around Voice recognition, and natural language processing.
On one side, we see Apple that will launch Homepod , after Amazon Echo and Google Home
on the other side, Facebook made some major moves in AI and vocal understanding, by buying for instance Wit.ai, from which you are the founder.
Everyone is asking the question : « What is the next move of Facebook to make voice as the new UX, are you gonna show your muscles and not be the only one among the GAFA to not have an intelligent. » But i won't ask this question, as you wouldn't be able to disclose this type of information here.
So, what I would I like to know is what are the specific uses cases for Voice recognition compared with text use cases ?
Pivot of Snips, value-added of Snips Question to Yann Lechelle - Snips
Hello Yann,
Snips really made a real pivot from making mobile assistants including AI to Natural Language processing, which is good move as you just raised 12M€ recently.
First point, why did you make this pivot ?
In addition, what is the value added by Snips compared to Amazon Echo, Google Home and Apple Homepod ?
General uses Vs Specific uses - Question to Alex Lebrun - Facebook
Facebook recently refocused its application of "artificial intelligence", intelligent chatbot didn't work so well and unveiled a bot API for its Messenger. With all the components you have and combined this with Wit.Ai, you could make an intelligent voice platform that could even be sold in B2B and compete with the Amazon Alexa plateform.
Without revealing any secrets, do you think voice recognition will be used for general purpose devices or limited first to specific tasks.(dishwasher, coffee machines) ?In this last case, manufacturers could rely on an intelligent voice plateform.
Alexa - Key witness of murder - Privacy - Question to Yann Lechelle - Snips
 You might have heard of this story :James Bates, in Arkansas has been recently accused of murder of his friend Victor Collins. You would ask ? What the heck ?
Well, James has an Amazon Echo that overheard a certain number of conversations so Amazon Echo could become a key witness in this murder investigation. This raise the question, of Privacy, because my conversations are sent to the cloud, accessible potentially to anybody. Yann, how Snips are you dealing with this issue ?
Question to Alex and Yann
Other interactions like gesture
We are talking about Voice, but there are other ways to interact naturally with objects. Will you include them in your solutions ?
I must admit I have a terrible handwriting, and it's getting worse and worse as I type more than I hand write . In the same way, do you think that voice will outdate writing ? Are we going back to an oral civilization enriched with plenty of videos ?
They are many languages to tackle , what strategy do you use ? Are you translating each language one to one or are you using pivotal language like English ?
Frugal and Sustainable Innovation with L'Oréal, Siemens, Navi Radjou and Dimitri Carbonnelle Livosphere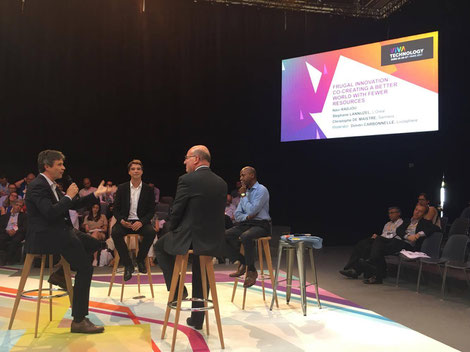 Introduction by Dimitri Carbonnelle - Livosphere
"More for more" no more sense - Emmanuel Macron, pionner in Frugal Innovation ;)
Here is the audio file:
Today when we innovate, we usually do more with more. Just to give an example to build a new factory of chips it costs over 1 billion USD and often 3,4 billion USD.
The next generation of factory that will make 450mm wafers would cost 10 / 15 billion USD. Does it really make sense ?
Today we are no more in a world plenty of resources but of scarcity. Often human beings starts being creative when they got a knife under their throat.
Frugal innovation is all about anticipating this moment to avoid it. It is doing more and better with less.
One of the first step to push people towards being creative is by reducing their resources.
Well I have got good news, because the French President Emmanuel Macron is pioneering Frugal Innovation to drive France. One of its first decision was to drastically reduce the number of collaborators in the Ministries cabinet (between 5 and 10). So, I am pretty sure, Ministries are now putting in place Frugal innovation strategies to do more and better with less people. In fact it compells them also to be open, to work with others.
Frugal Innovation and Europe - Question to Navi Radjou
Navi, Often we make the link between frugal innovation and emerging countries. You pointed out that the European Commission made a study on how to use Frugal Innovation as a leverage for Europe ?
Could you tell us why Frugal innovation is key in Europe and how we can become a forerunner in front of the Silicon Valley in that field ?
Reduction of CO2 emission - Question to Christophe de Maistre - Siemens
One main goal of Frugal innovation is making our world sustainable. However, industry and construction is a big contributor to climate warming, it's responsible for about 20% CO2 emissions in the world.
Siemens has decided to reduce by 50% its CO2 emission and to zero carbon emission by 2030. Can you tell us how you making this possible through innovation and can you give us some examples ?
Question to Stéphane Lannuzel - L'Oreal
One problem with Mass production is that One size fits all. As Henry Ford says, you can choose any color for your car as long as it is black. At the end, it doesn't fit so many people which means waste of time, money, resources
One principle of Frugal Innovation is mass customization and to be make it possibleyou need to flex your assets, which means being able to transform your production line to adapt to the demand.. And L'Oréal has exactly done that on its ines of production can you tell us more about it and why did you dit it ?
Products - Question to Navi Radjou
 You came up with a few products. They may that comes from Frugal Innovation can you show them and explain us in what they are different ?
Co-creation - Question to Christophe de Maistre - Siemens
On of the key of frugal innovation, is co-creation, and this goes from building proof of concept, prototype and solutions. I have heard the cornerstone of co-creation in Siemens with your customers but also startups is your platform Mindsphere. Can you tell us what it is and how it works ?
Customization and Production in shop - Question to Stéphane Lannuzel - L'Oreal
The next step is that the customers would be able to directly customize at the shop their product and buy it directly ?
I have understood you are doing this for foundations (fond de teit for french speakers) ?
Is it a big trend for you, that distributors, produce directly in their shop ?
Question to all speakers
Often we may think that Frugal innovation means low tech. How do you integrate new technologies like Iai? As we need less resources, Does Frugal innovation means also less Growth for companies? Is it an issue or a good thing?
Dimitri Carbonnelle - Livosphere